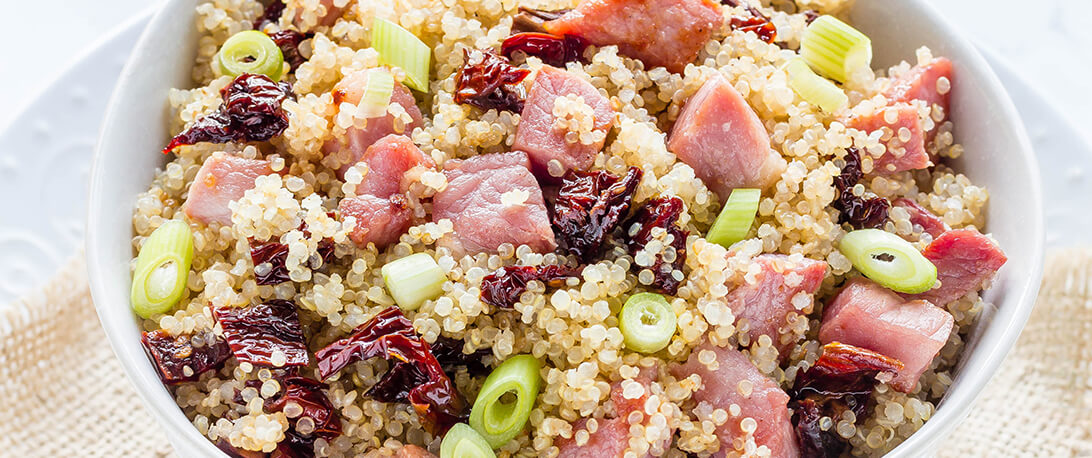 Gammon and Sundried Tomato Quinoa..
What you'll need:
125g (1 cup) quinoa
420ml (1.75 cup) water
Salt
1 tsp olive oil
1 smoked gammon steak, diced
75g (2.6oz) sundried tomatoes soaked in oil, chopped
3 spring onions, finely chopped
Balsamic vinaigrette, or other salad dressing to your taste
How to prepare:
Prep time: 5 mins
Cook time: 20 mins
Serves: 2
Notes: Gluten-Free, lunch box friendly
Rinse the quinoa well, let it drain, then transfer into a pot, add in the water and salt and bring to the boil.
Reduce to a simmer, cover and let cook for 15 mins. Then switch off the heat, open the lid and fluff the grains and let the quinoa stand for about 10 mins.
Heat the olive oil in a frying pan, add the diced gammon and fry for a few mins until cooked.
Transfer the cooled quinoa into a bowl, and mix in the gammon, sundried tomatoes, spring onion and salad dressing to your taste and serve.