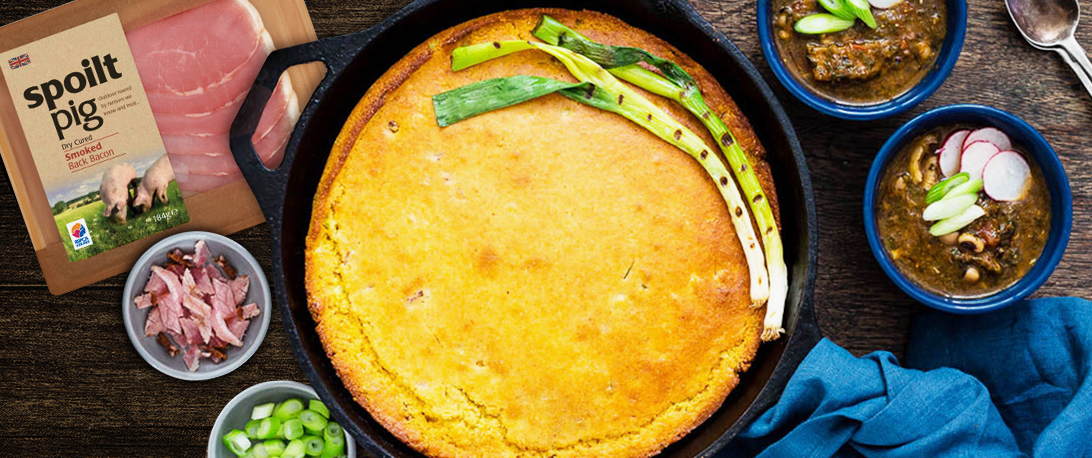 Spring Onion and Bacon Cornbread..
What you'll need:
240g (1.3 cups) coarse polenta
120g (1 cup) plain flour
1.5 tsp baking powder
1 tsp salt
0.5 tsp sodium bicarbonate
300ml (1.3 cups) buttermilk
6 tbsp melted butter
2 eggs, beaten
How to prepare:
1. Preheat the oven to fan-assisted 190C / 210C / 400F / gas 6 and put in a 9 inch cast iron skillet to heat up.
2. Add the polenta, flour, baking powder, salt and sodium bicarbornate in a large bowl and mix.
3. Stir in the buttermilk, butter and eggs until combined, before adding in the bacon and spring onions.
4. Carefully remove the skillet from the oven, lightly oil it and reduce the oven temperature to fan-assisted 170C / 190C / 375F/ gas 5.
5. Pour the cornbread batter into the hot skillet, smooth it, transfer to the hot oven and bake for 25 mins.
6. Remove from the oven, let it cool for a few minutes before transferring to a wire rack to cool completely.