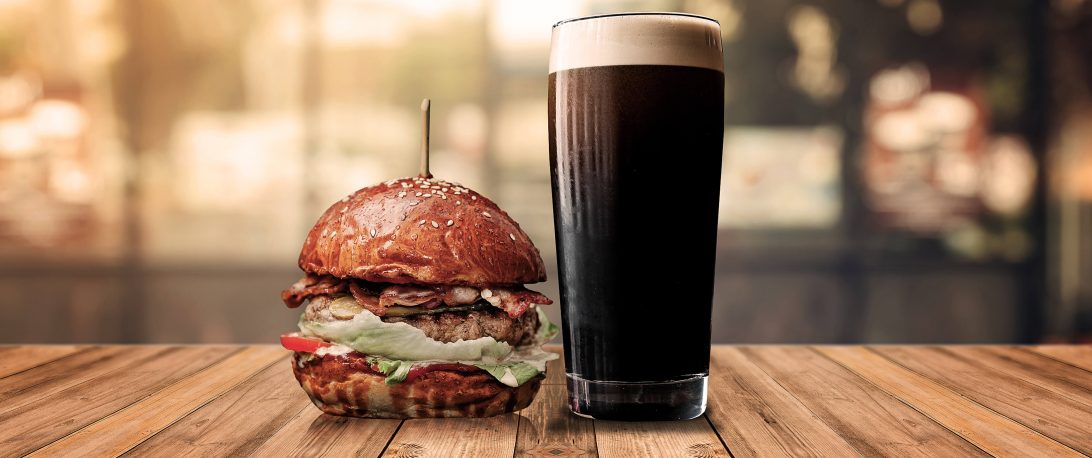 St Patrick's Day spoiltpig Burger
There's more to St. Patrick's Day than lots of green, the black stuff and leprechauns. Food is a big part of the day and this Irish tweak to one of the Nation's favourite's has a tasty twist. Go on, give our St. Patrick's Day spoiltpig burger a try – a great way to set yourself up for a day of celebrations.
What you'll need:
1 pound ground beef
2 tablespoons onion, sliced and diced
1 garlic clove, crushed
1 teaspoons Dijon mustard
1/4 cup Guinness or another Irish Stout
1/2 tablespoon olive oil
1 teaspoon salt
1/4 teaspoon pepper
Extra cooking oil
4 thick slices cheddar cheese
8 slices of spoiltpig Dry Cured Smoked Back Bacon
4 Brioche Buns
How to prepare:
Fry, oven cook or grill 8 rashers of spoiltpig back bacon and place to one side. Then, using a large mixing bowl, mix all the ingredients together (apart from the cooking oil, cheese, bacon and brioche buns – of course!). 60 seconds of kneading should be plenty. Now grease an oven proof dish and create 4 burger patties – to the size of your choosing. Place the patties in the refrigerator for 1 hour. Turn on the oven and pre-heat to 170 and cook the patties for 30mins, turning them halfway through – You can, of course, alter the time to suit how you like your burgers cooked. Then add cheese on top of each burger and place back in the oven until melted. Place your burgers in Brioche Buns, adding pickle, gherkin, salad and sauce to suit. And finally, top off each burger with 2 rashers of delicious spoiltpig bacon.